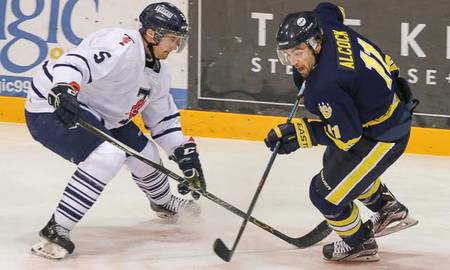 Sun Nov 29, 2015
The Lakehead Thunderwolves lost 6-5 in double overtime to the Toronto Varsity Blues before a crowd of 2046 at the Fort William Gardens on Saturday night.
The final result marred a spirted comeback effort by the Wolves that slipped away in the end.
Toronto jumped on the Wolves early and often in the first period, beginning with a Christian Finch marker 1:31 into the game. Then at 6:37, Lakehead goalie Jeff Bosch injured a hamstring when Dean Klomp beat him from in-close and had to be replaced in the Wolves net by Justin McDonald.
Patrick Marsh added two more goals late in the period to put Toronto up 4-0 after 20 minutes of play.
Billy Jenkins gave Lakehead a flicker of hope with a power play goal 5:40 into the second, and the Wolves began to take the pace of play to the Blues. Garick Gray scored at 17:49 of the middle stanza to cut the gap to 4-2 and make things interesting heading into the third.
Kelin Ainsworth shoveled a backhander past Toronto netminder Brett Willows at the 11-minute mark bring the Wolves to within one, and then at 14:01 Matt Alexander completed the comeback to deadlock the game at 4-4. At this point there was a serious buzz in the Gardens.
That buzz turned into bedlam when Jenkins got his second of the night to give Lakehead a 5-4 lead at 15:23, and it appeared as though the miracle comeback would stand. But Marsh beat McDonald low on the glove side with 1:33 remaining in regulation to complete his hat-trick and send the game into overtime for the second night in a row.
The Thunderwolves continued to dominate puck possession throughout the scoreless first overtime period and even more so in the second, where Cody Alcock narrowly missed several good scoring chances and Jake Wright was stoned by Willows.
It looked like it was just a matter of time before the Wolves would break through - until it didnt. With 1:05 left in the second O.T., Charlie Connell fired a rocket over McDonalds shoulder on the short side, giving the Blues the win.
Total shots on goal in the game were 48-31 for Lakehead.
The Molson Three Stars of the game were:
1.Billy Jenkins, Lakehead
2.Kelin Ainsworth, Lakehead
3.Patrick Marsh, Toronto
The Wolves will hit the road next weekend to take on Brock and York in their last games before the Christmas exam break.