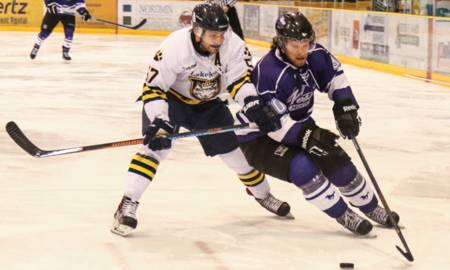 Fri Nov 13, 2015
The Lakehead Thunderwolves lost 7-5 to the Western Ontario Mustangs at Thompson Arena in London, Ontario on Saturday night in a game which saw plenty of offence from both teams.
Western got on the board first when Shaun Furlong redirected a point shot past Lakehead netminder Devin Green five minutes into the opening period.
The Thunderwolves evened the score at 14:52 when Sam Schutt knocked a loose puck by Mustangs goalie Peter Delmas, but Western regained the lead less than a minute later when Ray Huether scored from the edge of the crease.
Western converted just 13 seconds into the second period on a blast from Cole Benson from the high slot, and David Correntes short-handed marker at the seven-minute mark extended Westerns lead to 4-1.
The Stangs continued to pour it on and went ahead 5-1 on Spenser Cobbolds tip-in from the edge of the crease at 15:04, but Lakehead responded 30 seconds later when David Quesnele converted on a two-on-one feed from Schutt.
With Lakehead on the power play, Garick Gray knocked one in from a sharp angle at 17:53 to close to gap to 5-3 and the Wolves seemed to be gaining momentum, but Westerns Trevor Warnaar tempered Lakeheads mojo when he pounced on a rebound with 29 seconds left in the period to give Western a three-goal cushion heading into the third.
The Wolves came out strong in the final frame and cut the margin to 6-4 when Dylan Butler collected the puck behind Westerns net, walked in front and fired a wrist shot by Delmas at 5:05.
Andrew Goldberg blasted a slap shot past Green from the top of the face-off circleat 13:44 while the Mustangs held the man-advantage, but Austin McDonald replied with a nice backhander 21 seconds later to bring Lakehead back to within striking distance at 7-5.
Lakehead pulled Green for an extra attacker as time wound down, but two slashing penalties by McDonald and Cody Alcock in the final minute-and-a-half killed any hopes of a comeback by the Thunderwolves.
Total shots on goal for the night were 41-37 for Lakehead.
The Wolves will be on the road again next weekend for a pair of games with the Windsor Lancers.