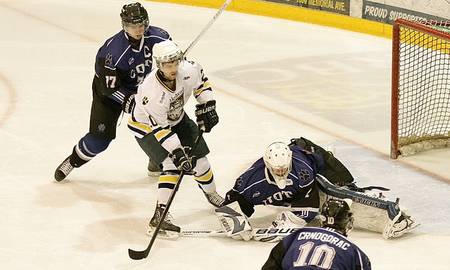 Fri Jan 18, 2013
The Lakehead Thunderwolves beat the Ontario Tech Ridgebacks 3-2 on Friday night at the Fort William Gardens in Thunder Bay in front of a crowd of 2,844.
Lakehead got on the board just 1:34 into the first period on a beautiful pass from freshman Luke Judson to Mitch Fillman, who buried a hard wrister past Ridgebacks goaltender Bryce OHagan.
Lakehead controlled the play early on in the game, but otherwise it was a sloppy period for both teams, as both Lakehead and Ontario Tech struggled to complete passes and make plays.
In the second period, Lakehead again controlled much of the play and had three terrific opportunities to increase its lead on great plays by Victor Anilane, Matt Caria and Andrew Wilkins, but couldnt convert.
Ontario Tech made Lakehead pay for not bearing down on its chances at 16:50 of the second when James Diminie squeaked a shot past Wolves goalie Alex Dupuis, tying things up at 1-1 heading into the third period.
Ontario Tech took the lead just 56 seconds into the third period on a short-handed marker from Ridgeback forward Jesse Stoughton.
Not long after, Victor Anilane scored into a wide-open cage after a brutal giveaway by a Ridgeback defenseman. Assists on the goal were credited to Andrew Wilkins and Ryan Magill.
The Wolves almost had another goal when a Tech defenseman passed the puck right to Trevor Gamache in the slot, who then rang a blistering wrist shot off the post.
Lakehead captain Adam Sergerie put the Wolves ahead on a highlight reel goal, going top corner with very little space at 15:02 of the third. Assists on the goal went to Riley McIntosh and Jay Gilbert.
The Molson 3 Stars of the Game:
1st Victor Anilane, Lakehead
2nd Mitch Fillman, Lakehead
3rd Adam Sergerie, Lakehead
Both teams are back in action Saturday night at the Fort William Gardens. Puck drop is set for 7:30.