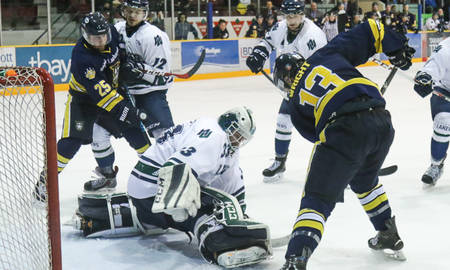 Fri Nov 06, 2015
2118 fans saw Lakehead take the lead three times and the Wolves never trailed until the game finally ended with a 4-3 overtime loss to the Nipissing Lakers at the Fort William Gardens Friday night.
After a first period in which there were no goals scored and no penalties assessed, Lakehead took a 1-0 lead at 8:28 of the second on a wrap-around goal by Linden Springer with Garick Gray picking up the assist.
Erik Robichaud replied for Nipissing at 11:36, but just over a minute later Jake Ringuettes wrist shot deflected of a Laker defenceman and past Nipissing netminder Kirk Rafuse to put the Wolves back in front 2-1. Justin Sefton and Sam Schutt were credited with the helpers.
The Lakers knotted the score at 2-2 when Colin Campbell tipped a point shot that snuck between Lakehead goalie Devin Greens pads late in the middle stanza.
With the Wolves on the power play, Jake Wright put Lakehead up 3-2 when he deflected Seftons point shot at 4:33 of the third, with Kelin Ainsworth getting the other assist.
Then with a little under five minutes remaining in regulation, Nipissings Brock Morrison evened the score to force overtime after Green mishandled the puck and was caught out of position.
The game ended just 50 seconds into extra time when Nipissings Mackenzie Keirstead re-directed a shot over Greens shoulder.
Final shots on goal for the night were 37-33 for Nipissing.
With the O.T. loss, the Wolves collected one point in the standings but still remain winless in OUA play with a record of 0-6-1 in the regular season and 2-8-2 overall.
The Molson Three Stars of the game were:
1.Colin Campbell, Nipissing
2.Linden Springer, Lakehead
3.Justin Sefton, Lakehead
Lakehead will look to get into the win column tomorrow night when the same two teams hit the ice again at the Fort William Gardens beginning at 7:00 PM.