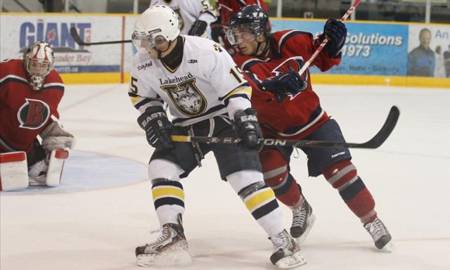 Fri Feb 08, 2013
The Lakehead Thunderwolves rallied twice from two-goal deficits to beat the Brock Badgers 4-3 in overtime at the Seymour-Hannah Centre in St. Catharines, Ontario on Friday night.

Brocks Dan Dooley opened the scoring with the only goal of the first period on a shot that eluded Lakehead netminder Alex Dupuis at the 17:39 mark.

The Badgers extended their lead to 2-0 at 7:09 of the second period on a power play goal by Matt Abercrombie, but Lakehead responded just 17 seconds later when Adam Sergerie beat Brock goalie Dalton McGrath after being set up by Matt Caria and Mike Hammond. But another power play marker by the Badgers Andrew Radjanovic at 17:10 gave Brock a 3-1 lead heading into the third period.

Lakeheads Jay Gilbert fed Andrew Wilkins who narrowed the gap to 3-2 with only 2:41 remaining in the regulation, and then with only 45 seconds left on the clock, Sergerie scored to tie it up and force overtime. Caria and Chris De la Lande were credited with the assists on Sergeries second goal of the game.

In a close-checking overtime period, Mike Hammond sealed the deal for the Wolves when he put the puck past McGrath at the 3:29 mark, giving the Thunderwolves the 4-3 victory.

Shots on goal in the game favored Brock by a 41-34 margin.

The win improves Lakeheads OUA record to 17-8-2, and guarantees the Wolves no worse than third place in the West Division.

Lakehead will close out its regular season at Waterloo on Saturday, where a win over the Warriors would clinch second place for the Thunderwolves.