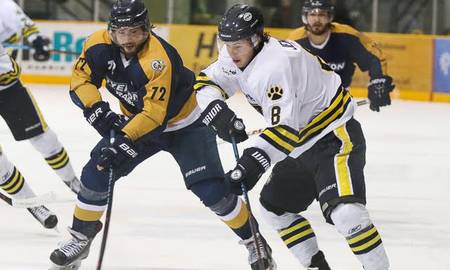 Fri Jan 15, 2016
Spurred on by three unanswered goals in the third period, the Lakehead Thunderwolves downed the Ryerson Rams 5-2 in front of 2274 fans at the Fort William Gardens on Friday night.
Billy Jenkins gave Lakehead an early lead on a goal assisted by Jake Wright and Cody Alcock with the Wolves on the power play 4:49 into the game.
Alcock, Lakeheads leading scorer, had to be taken off the ice later in the period after he suffered what appeared to be a serious knee injury and was lost for the night and possibly much longer.
Ryersons Jamie Lewis evened the score at the 10:53 mark of the first while the Rams were short-handed when he roofed a shot on Lakehead goalie Devin Greens glove side.
Kelin Ainsworth scored the only goal of the second period on a blast from the face-off circle that eluded Rams netminder Taylor Dupuis with less than three minutes remaining. Jake Ringuette was credited with the assist.
Michael Fine tied the game early in the third while the Rams held a five-on-three advantage.
Jenkins got the game-winner on an odd-man rush set up by Ainsworth at 8:48, and Justin Sefton banged the puck past Dupuis while the Wolves had the extra man at the 14:15 mark. Jenkins and Ainsworth picked up the helpers, giving them each three points on the night.
Sefton found Carson Dubchak streaking up the right wing for an empty-netter to ice the game with just over a minute remaining.
Green was solid in the Lakehead net once again, turning aside 34 of the 36 shots he faced. The Wolves fired 31 shots on the Ryerson goal for the night.
The Molson Three Stars of the game were:
1.Kelin Ainsworth, Lakehead
2.Billy Jenkins, Lakehead
3.Devin Green, Lakehead
The two teams will take to the ice again tomorrow night beginning at 7:00 p.m.