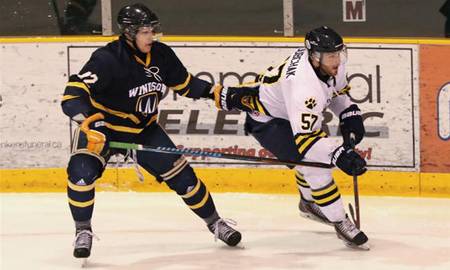 Sat Nov 21, 2015
The Lakehead Thunderwolves defeated the Windsor Lancers 5-2 at the South Windsor Arena on Saturday night.
In contrast to Fridays game, this was a wide-open affair with plenty of end-to-end action and scoring chances for both sides.
The Wolves opened the scoring at 11:37 of the first when E.J. Faust converted on the power play after being set up by Justin Sefton and Carson Dubchak, but Tyson Ness replied for the Lancers 30 seconds later to tie the game at 1-1.
Shots on goal in the first period were 16-11 for Lakehead.
Windsor went ahead 2-1 when Dylan Seguin beat Wolves netminder Devin Green at 7:22 of the second period.
Lakehead knotted the score at the 13:23 mark after Dylan Butler fired the puck past Lancers goalie Blake Richard from close range, with Tyler Kunz and Linden Springer picking up the assists.
Windsor outshot the Wolves 18-17 in the middle stanza.
Lakehead broke the game open in the third with three unanswered goals in what was a very chippy period, and took advantage of some undisciplined Windsor penalties as the Lancers were assessed 7 of the 8 infractions called in the final 20 minutes.
Cody Alcock got the game-winner with a rocket to Richards glove side at 9:26, with Butler and Tyler Anton credited with the helpers.
The Wolves extended their lead to 4-2 at 13:58 when Jake Ringuette wired a one-timer past Richards while Lakehead held a four-on-three man advantage. Butler and Anton recorded the assists once again.
Less than a minute later, Sam Schutt came flying down the left wing and scored to all but ice the game for the Thunderwolves.
The Lancers applied the pressure in the final minutes but couldnt get anything past Green, who was solid in net for the second night in a row.
Shots on goal favored Lakehead by a 16-15 margin in the third period and by 49-44 on the night.
With the win, the Thunderwolves OUA record improves to 1-10-1 and to 3-12-2 overall.
Lakehead returns to the Fort William Gardens next weekend to take on the Toronto Varsity Blues in the Wolves last home games before Christmas.